Dec
03
2018
One of the most frequently requested quizzes is the flags of the United States.  But no one ever specified if they wanted it as just the flags alone (in the Flags section), or the Geography section type where you click on the map to answer.  So, I did both.
If you want to practice just the flags, without having to also know where the state is on a map, head for the Flags of the US quiz in the Flags section.
If you want more of a challenge, try the Geography section United States: Flags quiz where you have to answer by clicking on the map of the US.
Some of them aren't too hard because they have the name of the state right on the map!  You know, like this: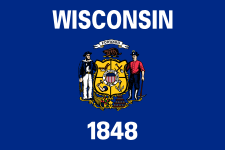 If only they were all that easy!