Aug
12
2018
Customizing a quiz gives you the option of selecting whether a quiz is forced into Strict Test mode (with the other modes completely turned off). This is a great feature for testing your students - they don't get hints (like "No, that's France") and they can't click a button to see the labeled map. They also can't switch the mode, or misunderstand in what mode you wanted them to take the test.
At the request of a teacher, we now offer another option: to force the quiz into Test mode.  Test mode is similar to Strict Test mode, except in Test mode, you still get three tries to answer - but still, no help or hints. This is a good testing option for younger students, beginners, or to prepare for the Strict test at a later date.
Forcing a quiz into test mode or strict test mode is done on the quiz customization screen. The following screenshot of customizing the US state capitals quiz shows, circled in red, where you would select the quiz mode you want. 

Note: Forcing a quiz into test mode or strict test mode is only available to premium users (those with a Teacher Plus account or an Individual supporter account)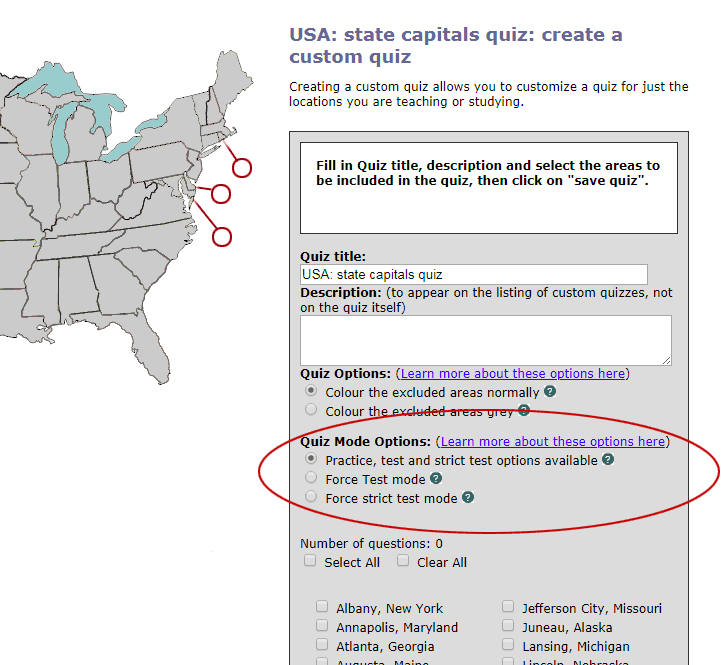 Screenshot of the quiz customization screen showing where you select a mode to force

For comparison of the options, have a look at these 3 US state capital quizzes that have been customized with different mode options:
If you come across a quiz that has a forced mode, you can see what mode it is in, as in the following screenshot. The Quiz mode below the buttons shows that it is test mode. If you hold your mouse over (or tap on) the question mark icon, you will see an explanation of test mode.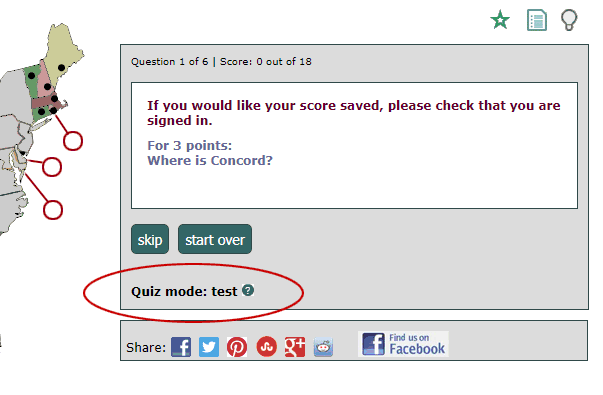 Example screenshot of a forced quiz with the mode displayed

All quizzes that are customizable (found on this listing) have the new option to force the quiz into Test mode.  Happy testing!