Help: Student Sign In
Students sign in using the same sign-in page that teachers and everyone else use. The link to the sign in page is found on the navigation menu on every page, "Sign in/register", just to the right of the grey tabs.


Sign in screen
On the sign in screen, the students type in the user name you assigned them (if they are using generated accounts that you created), and the class password you set up. On the screenshot below, student s.jsGeo01 is a student in class s.jsGeo.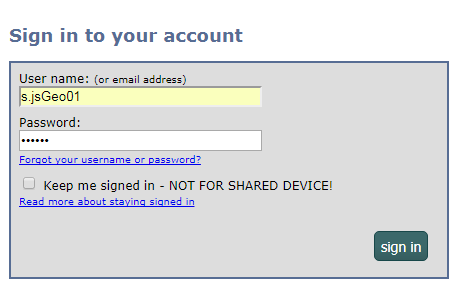 Look out for the following common errors
If you set up a class with class name of MsJones, for example, with 20 students, then the student names will be generated as s.MsJones01, s.MsJones02, s.MsJones03... s.MsJones20. The most common mistakes when students try to sign in are:
Forgetting or not realizing that the s and the period are part of the name they sign in with.

Correct: s.MsJones01
Incorrect: MsJones01


Some students think they need to create an account or register themselves. If you're using generated accounts, they don't - they just need to enter their assigned id and class password on the sign in screen.


If the number on the end of the student name is less than 10, some students miss the 0. Make sure to use 01, for example, and not 1.

Correct: s.MsJones01
Incorrect: s.MsJones1


Don't put in extra spaces or underscores in the name when signing in!
One more thing you and your students should know:
When students sign in, their session is NOT kept open forever - unless they use the "keep my signed in" feature. After a few hours of inactivity, it is possible that you or your students will get signed out. If doing a quiz where they need their results saved, students should always check first that they are signed in ... look for the "Hello, (student name)" on the top right above the green navigation bar to be sure you are signed in. If you've been on the same quiz page for quite a while, reload or refresh the page to check if you're still signed in.