Teacher Quick Start Guide
Note:This Quick Start Guide describes the process of setting up students with either generated accounts, or student-owned accounts. Read more about the two types of student accounts.
Step 1: Sign up for a free Teacher Basic account
The first step in getting accounts for your students is to create your own teacher account. Make sure to check the box that says 'Teacher account' and fill in the name of your school. You will then need to activate the account using the email we send you.
Step 2: Activate your account
Activate your account using the email we send you. You might need to look in your spam or junk folder to find the email.
Step 3: Set up your classes
Sign into your account and go to your Teacher Dashboard. Any changes you wish to make to your classes are done from your Teacher Dashboard. To get there, sign into your account, and click on 'My Account' on the navigation bar. You'll see 'Teacher Dashboard' near the end of the list. From there, go to the Add New Class screen.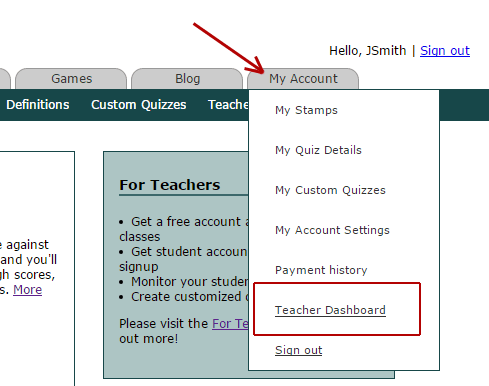 Important: You need to decide what type of accounts your students will use: Generated or student-owned.
Generated accounts are ideal for younger students who don't have their own email addresses. You can create accounts for them, and assign an account to each student. They all share the same password. If you will be using generated accounts, input the number of students when you create your classes. Then go to Step 4a.
Student-owned accounts is the recommended set up, provided that your students are 13 or over (USA, or age as dictated by your country's privacy laws for children), and that they have their own email address that works outside of your school network.
If your students will be setting up their own accounts, use 0 for the number of students when you set up your classes. Then go to step 4b.
More information on the types of student accounts
If you set up generated accounts and then decide to use student-owned accounts instead, that's fine. You can delete the generated accounts that you don't need.
Step 4a (generated accounts): Hand out the usernames and password to your students
Your students sign in with the user names that were generated for you... something like s.SmithGeo101. Just hand out a user name and password to each student, and have them sign in using the Sign in page.
For Teacher Plus accounts: After you've determined which students have been given which user names, you can record them on the Update Student Aliases screen. This is optional.
From the Teacher Dashboard, go to Update student aliases, select a class (if you have more than one), then just type in the names, and submit!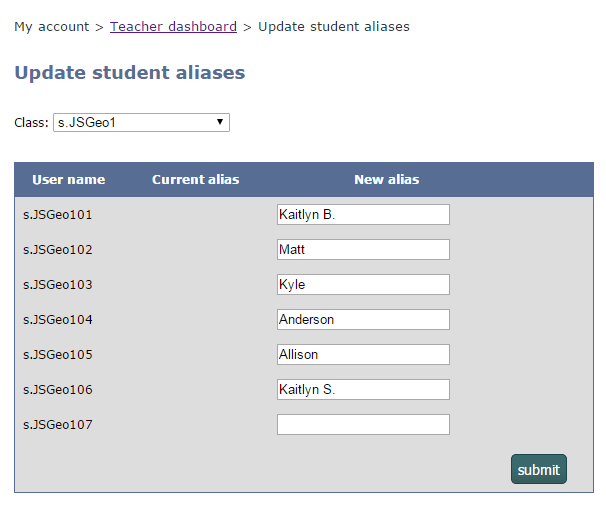 Student aliases are seen on the View student scores and results screen. They help you identify your students. A sample screenshot: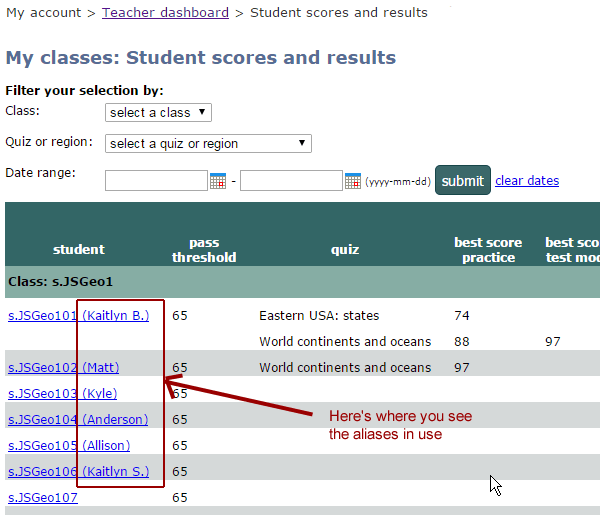 Step 4b (student-owned accounts): Instruct your students to create their own accounts and join your class
After your students register and activate their account, they will see an option to Join or Leave class in their My Account menu. Tell your students the class name to input on this screen. Details of this process with some screen-shots can be found here: Help info for joining a class.
If you have students with email difficulties, or perhaps some other difficulty, and you think they would be better off with a generated account, you can use both types of accounts. Go ahead and generate accounts for those students, and follow the step 4a instructions for those students.
Other things you can do:
View your students' results
You can view your students' results on the View student scores and results screen.
If you have a Teacher Plus account, you will see have access to summary results, and detailed results of each quiz attempt. You can also click on any student's record to see his stamps and scores.
Set your timezone
If you have a Teacher Plus account and will be viewing your students' scores, which includes date and time information, you can set your timezone in your My Account Settings screen, found in the My Account tab. The default timezone is the North American Eastern Timezone.
Set your Teacher Display Name
If you signed up with a bit of a goofy username, and you'd rather your students see something like "Mr. Smith" (on custom quizzes you create, on your blackboard, and when students join your class), you can change your display name. Head to your My Account Settings screen, found in the My Account tab.
Account maintenance
You can read the help documentation for the types of changes you can make in your class accounts: