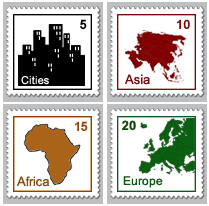 Introducing a free, fun service...
New: Personalized Quiz Tracker

*
Track your progress, earn merit stamps and compete against yourself and your friends. Sign up for a free account and you'll be able to keep track of all your quiz completions, high scores, modes and work towards mastery in many categories. More info on the Personalized Quiz Tracker.
Ready to sign up?

*Beta release (Translation: bear with us if there are a few bugs!)
May we suggest...

Try this quiz now

Have you tried Study Mode yet?
Study mode, launched at the end of March, provides all kinds of additional material on countries, and on the US states. Watch this quick video to see how it works.


What's new
July updates:
Ability to sign in, track your progress and earn stamps.
New quizzes and updates in May: New quizzes and updates in April:
Three New Zealand quizzes:
Three other updates:
Please visit the what's new page for a listing of additions by month added.
Attention, teachers and students!
You can now get your test results formatted to print and hand in.





Having trouble? If you're having trouble with the new quiz format working on your computer or device, please contact us and describe the problem, and what operating system and browser you are using.