A new type of student account: Student-owned accounts
Aug
26
2016
If you're a teacher of students that are 13 years of age and older, and your students sign up for accounts themselves, you might find our new account type of interest: Student-owned accounts that are connected to a teacher account.
A quick review of Teacher accounts and their student accounts
Until now, if a teacher wants to monitor their students' activity, the teacher must create generated accounts and hand them out to the students. And give everyone the same password. And keep track of whose account is whose. This is an ideal solution for maintaining the privacy and safety of children under 13 on the internet.  But it may not be ideal for teachers of a large number of students in higher grades.


Introducing... Student-owned accounts connected to your teacher account
With student-owned accounts, students can sign up for their own accounts, and maintain their own passwords. Sounds like just a regular account that has always been available? Not quite - now anyone with a regular (non-teacher) account will see a new option in their My Account menu: Join or Leave Class.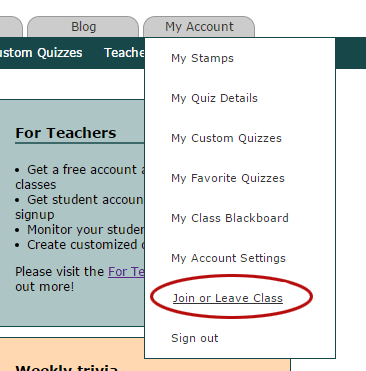 If you, the teacher, have one or more classes set up in your account, you can instruct your students to use the Join a Class option to connect their account to yours. When they do that, they will be prompted to fill in the alias/nickname and give you permission to access their results.   The alias/nickname will be what you see on your class results listing (thus saving you some work figuring out who's who).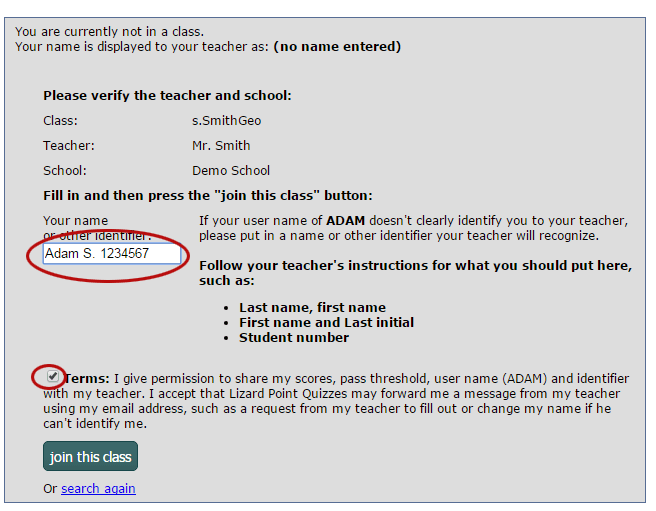 This option is available for both Teacher Basic and Teacher Plus accounts , but please note that you need a Teacher Plus account to view your student scores (Teacher Basic will just show you that the student completed the quiz - not the score).
 We have more information for you here about the two types of student accounts, and details about the process of Joining a class.